Avoro: Custom Textures adds new textures to Wonderdraft which you can use in many kinds of maps.
All textures are seamless and can also be used outside of Wonderdraft.
This asset works well with the Avoro theme, check it out
here
.
Wonderdraft installation:
Place all files in the .zip file in the root folder of Wonderdraft
(C:\Users\USERNAME\AppData\Roaming\Wonderdraft)
OR
Use asset manager
Mythkeeper
to install the asset.
How to use
If you want to use these textures in Wonderdraft, here's how to do that!
Open a map in Wonderdraft and click on either the land or water menu.
In the sidebar to the right, you will see options for Water Textures and Ground Textures.
Click on the drop-down menu and select the texture you would like to use.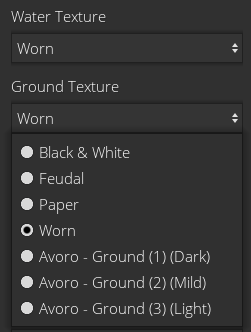 More in the Avoro family
If you like this asset you might also enjoy other assets or themes in the Avoro family!
Click the button below to learn more about Avoro.
​