There are five different desert textures in this pack. These symbols are white and their draw_mode in the metafile has been set to sample_color
I sourced all the desert images from
unsplash.com
Important Note: When you first place them down onto a light parchment colour they will be nearly invisible. You must go to the Land Brush and Set the Filter to Symbol and select a darker brown colour, adjust the Opacity to 0.1 and paint where you placed the desert symbol. See gallery images below for an image of the settings I used.

Desert Symbol "Textures"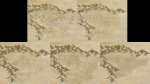 A happy little accident. One of the textures looks vaguely like rolling farmland so I made this and it turned out pretty nice!